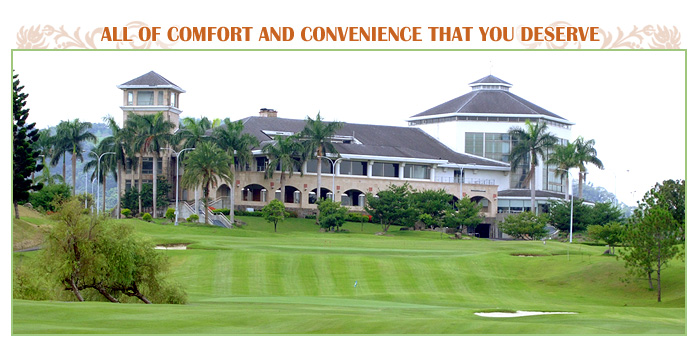 1、Golf Courses: The standard 273 holes, divided into East ,Center and West 3 (course),
  2 practice greens.
2、Golf Carts: four-seat 80, two-seat 4.
3、Restaurants: Coffee shop, Chinese restaurant, multi-functional banquet hall, conference room
  (wireless Internet access).
4、Course lighting at night:6 holes, 3 in East, 3 in Center.
5、Snake Shop in: East, Center and West.
6、Golf shop:Yu Feng golf ProShop.
7、Male and female locker room: Male 402 lockers, female 120 lockers.
8、Male and female shower rooms: Male 23, female 18.
9、Massage Pool: Male & female locker rooms.
10、Parking lot: 250 cars, 12 for tour buses (temporary parking spaces 200 above).
11、Contracted Hotels: Evergreen Laurel Hotel, Plaza International Hotel , The Sun Hot Spring
  and Resort, Hotel One.